Ebenezer's Music Ministry shares the gospel of Jesus Christ through song and instrumental music encouraging believers in their walk with Christ. Both our Heritage Choir and Worship and Praise team contribute to the spirituality of our services and are an integral part of the worship experience.
Want to learn more about our Music Ministry? Read more information about our choirs, services and who to contact to get involved below!
More About

Music Ministry
Traditional Service with the Heritage Choir
at 11:00 am
Traditional hymns and choral pieces provide heartfelt quality texts and hymn tunes. There is an opportunity for individuals to share their musical gifts. Guest musicians from our congregation and the community participate in the Traditional Service and add variety and depth to our worship. The Fifth Sunday Special Services of Music include the singing of Michael Rodgers, Advent and Palm Sunday Services of Music include the Dogwood Strings and composer John Purifoy, and majestic Easter services with brass and Christmas Eve Services also with brass highlight the season. Pianist Carolyn Hartsell and Organist Mamie Sullivan provide beautiful instrumental music each Sunday and accompany the choir, soloists and guest musicians.
Carroll Logan is our Minister of Music and directs the Heritage Choir and Handbell Choir. The Heritage choir sings in the traditional service at 11:00 am featuring music of living composers and classics from past centuries including various styles of music from southern gospel to the occasional classical piece. The Heritage Choir is not an auditioned choir, and while we strive for excellence, we welcome singers of all levels.
Rehearsals are on Wednesdays at 6:30 pm in the Sanctuary.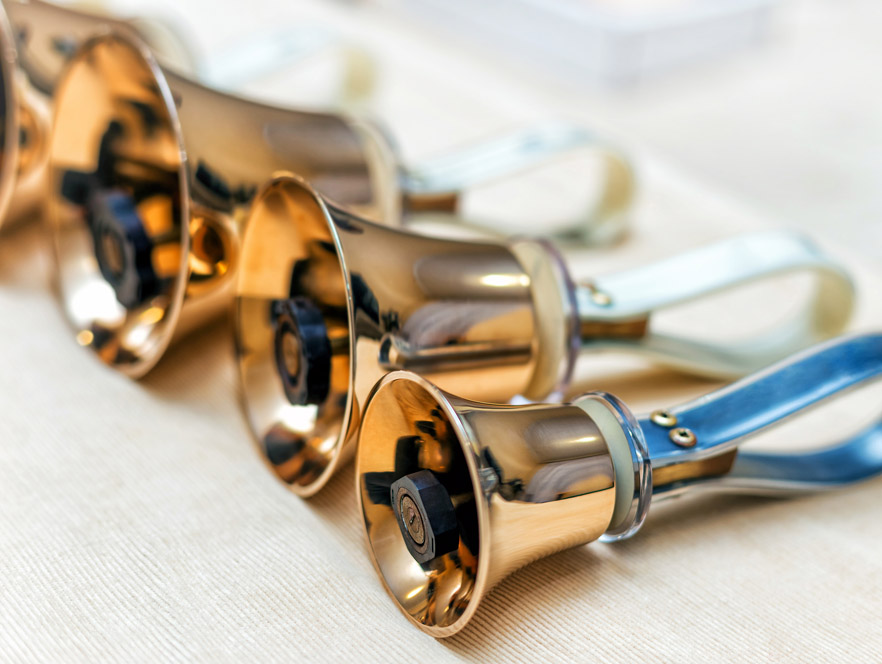 You don't need previous experience to play handbells if you have played an instrument or can read simple music. The Handbill Choir is open to all ages and experience levels. We will have fun as we play interesting and exciting music, so join us as we begin this new ministry. Rehearsals are on Wednesdays at 4:00 pm in St. Clair Hall.
If you have questions about the Traditional Service, Heritage Choir or Handbell Choir, contact Carroll Logan at clogan@eumcknox.org.
Contemporary Service with the Worship Band
at 9:00 am
Todd Burkholder and Kelly Rexrode are our Contemporary Music Leaders. Todd and Kelly put together an uplifting and meaningful service of praise to God each Sunday at the Contemporary service. The Worship Band is comprised of members who have a broad mix of ages, abilities, experience, and musical styles, yet all share a love for worship and a desire to embrace worship with all ages, including all styles of music, whether it is "cutting edge" worship music or best-loved contemporary worship songs. The Worship Band rehearses each Thursday at 7:00pm.
If you are interested in being part of Ebenezer's contemporary music or have some suggestions for songs you would like for us to play / lead, contact Todd Burkholder at burkholder.todd@gmail.com or Kelly Rexrode at kellysue65@gmail.com for more information.